Tonya Blank, Office Manager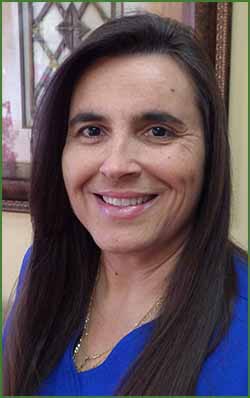 Tonya Blank was born in Leesburg and raised in Lady Lake. She attended Lake Weir High School where she was an active member of Future Business Leaders of America. Tonya worked in the banking industry for 5 years before entering the dental profession. She has worked in dentistry for the past 20 years with the last 14 years in a managerial position. Tonya completed the prestigious program Dental Boot Camp for Administrative Managers, Mastery Series. Her combined leadership skills, financial knowledge and proficient managerial abilities make her a truly amazing asset to First Impressions Dental Care. Tonya is Dr. Pisano's favorite Office Manager! She currently resides in Fruitland Park with her loving husband Sean of 22 years and her beautiful daughter Courtney. Courtney is a UCF graduate, with a Bachelors Degree in Elementary Education and is currently teaching 2nd Grade at First Academy in Leesburg. Tonya loves working in the nursery at her church with her daughter, taking care of the little ones at Church of the Lakes in Leesburg. Tonya enjoys spending time with her family, going out on their boat and trips to the parks with their two dogs Kilo and Teyha. Tonya also loves traveling to the Great Smoky Mountains National Park and surrounding areas.
Kaila Bogan, Front Desk Coordinator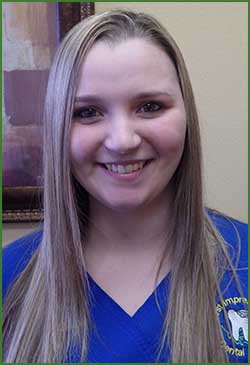 Kaila Bogan is a Florida native born in south Florida and raised in Marion County. Kaila is a newlywed, just recently married in February 2018, to her sweetheart Brett. Kaila has an amazing one year old boy Brody and an energetic six year old step son Korbin. Kaila has a license in Phlebotomy with 3 years experience and new to the dental field. Kaila is looking forward to learning more and expanding her career in the dental field. Currently, Kaila is enjoying being a wife, a mother and stepmother to her wonderful family.
Kimberly Reyes, RDH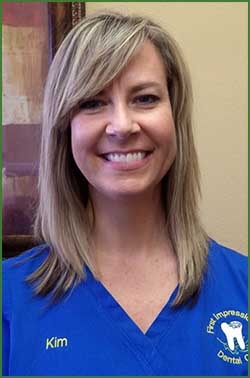 Kim was born in West Virginia and moved to Central Florida at the age of 12, where she attended Carver Middle School and graduated from Leesburg High School. She obtained her degree in Dental Hygiene from West Liberty University in 1995 and her certificate for local anesthesia from University of Florida in 2013. Kim has been a practicing dental hygienist for over 20 years and has worked for Dr. Pisano for the past 13 years. Kim's extensive training and her detail oriented, and meticulous personality make her Dr. Pisano's favorite hygienist. Kim and her wonderful husband, Jorge has been happily married for over 20 years. He is originally from Chile. Together they have raised 2 daughters and are now enjoying more time with one another. Ashley is the oldest, she is newly married and currently finishing a degree in dental hygiene, so she can follow in her mother's career choice. Mckenzie is a senior in high school and plans on attending a local college this Fall. Kim and Jorge take extensive vacations in Chile, enjoy seeing new places, biking and spending time with the family.
Amy Steedman, RDH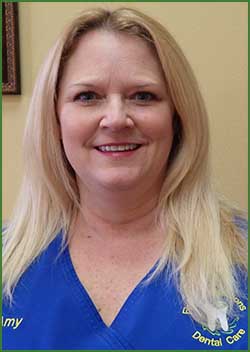 Amy was born in North Carolina and raised in Florida where she graduated from Blountstown High School. Amy earned her Dental Hygiene degree in 1994 from Santa Fe Community College in Gainesville. Amy has been a practicing Dental Hygienist in the Villages for more than 20 years. Amy has the miraculous ability to make her patients happy and comfortable while simultaneously improving their oral health. It is this quality that makes her Dr. Pisano's favorite hygienist. Amy has been married to her fabulous husband David for 23 years and is the proud mom of two children Meagan and Blair. Meagan recently graduated from UCF with a Bachelors degree in nursing with hopes to getting a position in the Cardiology department. Blair is a football player for Forest High School. She enjoys spending time with her family.
Michelle Benton, Dental Assistant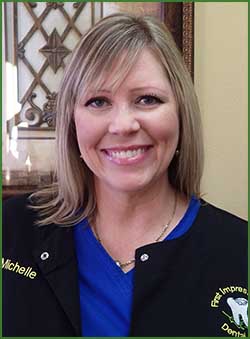 Michelle Benton was born and raised in Central Florida. Michelle has been married to her wonderful husband Tim for 25 years and they have 3 fantastic children, Payton, Chandler and Halle and a beautiful daughter in law, Anna, who is a former dental assistant of First Impressions. Michelle has been a dental assistant for 8 years and received her Dental Assistant education at Lake Sumter State College and continued training in Orlando, Fl. Michelle is Dr. Pisano's favorite dental assistant. With her extensive training and skills and her compassionate personality, she is an amazing asset to our office. Michelle thoroughly enjoys her daily interactions with our patients and strives to meet our patients every need. Michelle enjoys boating with her family and going to church. Michelle has a passion for repurposing furniture and finding great deals!
Lindsey Hames, Dental Assistant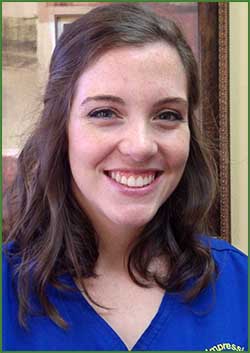 Lindsey Hames is a sixth generation Florida Native and graduated from the Villages High School. She is currently completing her AA at the College of Central Florida where she also became a Certified Dental Assistant. Due to her outstanding academic record and her infectious smile, Lindsey was chosen to be on a huge billboard. She is the epitome of the ideal Student! Look for her on State Road 200 in Ocala. Lindsey's passion for dentistry and her desire to learn makes her Dr. Pisano's favorite assistant. Lindsey has the amazing support from her parents, guidance from her older sister, and excitement to grow in life from her boyfriend, Kevin. Lindsey grew up riding horses and raising animals for the South Eastern Youth Fair; from this childhood accomplishment she extended her interest in horses and proudly raised and trained her own horse, Mr. Darcy, inspired by the novel Pride and Prejudice. Lindsey enjoys being outside and antiquing with her boyfriend.