Tonya Blank, Office Manager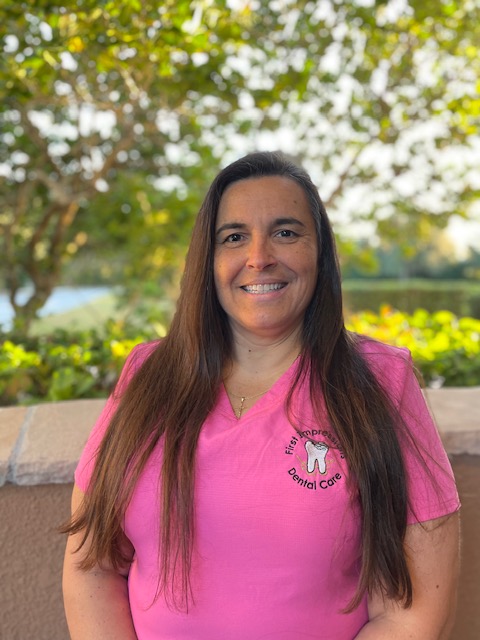 Tonya Blank was born in Leesburg and raised in Lady Lake. She attended Lake Weir High School where she was an active member of Future Business Leaders of America. Tonya worked in the banking industry for more than 6 years before entering the dental profession. She has worked in dentistry for more than 25 years and more than 19 years in a managerial position. Tonya completed the prestigious program Dental Boot Camp for Administrative Managers, Mastery Series. Her combined leadership skills, financial knowledge and proficient managerial abilities make her a truly amazing asset to First Impressions Dental Care. Tonya is Dr. Pisano's favorite Office Manager! She has been married to her loving husband Sean since 1996 and they currently reside in Fruitland Park. Their beautiful daughter Courtney also lives in Fruitland Park close to mom and dad. Courtney is a UCF graduate, with a Bachelor's degree in Elementary Education and has been teaching for more than 5 years at Treadway Elementary. Tonya enjoys crocheting, spending time with her family, going out on their boat and trips to the parks with their two dogs Tehya and Moki. Tonya also loves traveling to the Great Smoky Mountains National Park and surrounding areas.
Tammy Graham, Front Desk Coordinator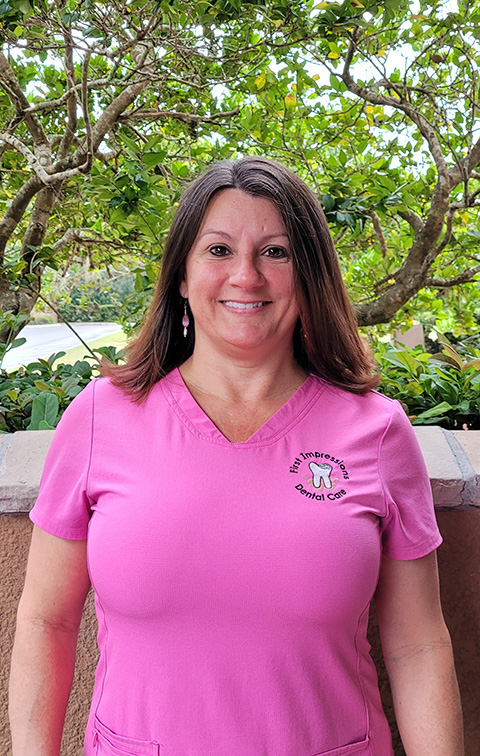 Tammy Graham was born and raised in Kissimmee, Fl and moved her family up to Fruitland Park in 2017. She has been in dentistry for more than 20 years and is Dr. Pisano's favorite front desk coordinator! She has been married to her fantastic husband Robert since 1992. They have two daughters, Katie and Jessica, two sons-in-laws, Mark and Chance and three handsome grandsons, Button (Wesley), Sprout (Levi) and Cricket (Mark). Tammy enjoys boating, crafting, and spending time with her family.
Amy Steedman, Dental Hygienist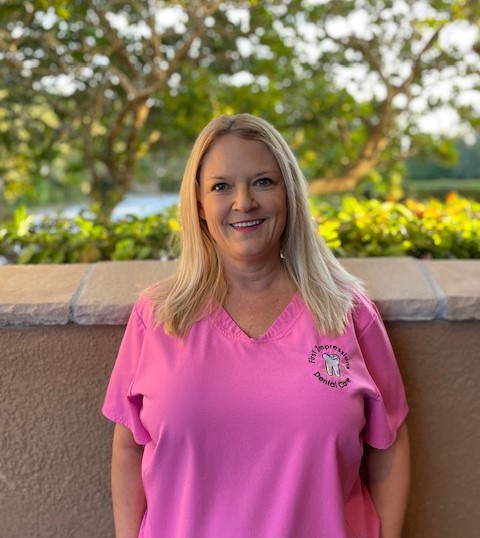 Amy was born in North Carolina and raised in Florida where she graduated from Blountstown High School. Amy earned her Dental Hygiene degree in 1994 from Santa Fe Community College in Gainesville. Amy has been a practicing Dental Hygienist in the Villages since 1994. Amy has the miraculous ability to make her patients happy and comfortable while simultaneously improving their oral health. It is this quality that makes her Dr. Pisano's favorite hygienist. Amy has been married to her fabulous husband David since 1995 and is the proud mom of two grown children Meagan and Blair. She enjoys spending time with her family and traveling, going to the movies and the beach.
Kimberly Reyes, Dental Hygienist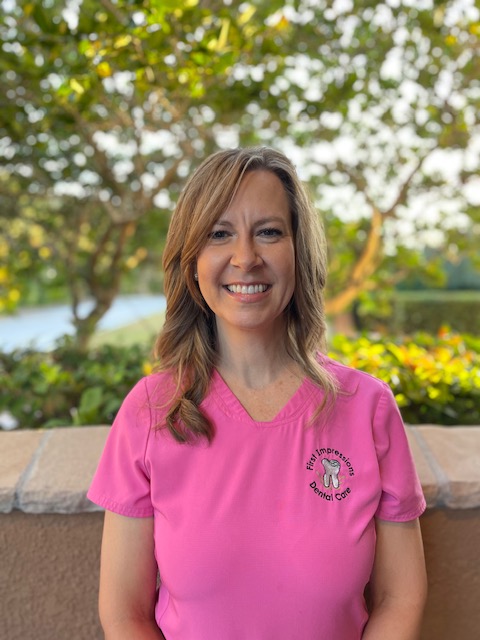 Kim was born in West Virginia and moved to Central Florida at the age of 12, where she attended Carver Middle School and graduated from Leesburg High School. She obtained her degree in Dental Hygiene from West Liberty University in 1995 and her certificate for local anesthesia from University of Florida in 2013. Kim has been a practicing dental hygienist for over 25 years and been in dentistry for more than 30 years. Kim has worked for Dr. Pisano for more than 16 years. Kim's extensive training and her detail oriented, and meticulous personality make her Dr. Pisano's favorite hygienist. Kim and her wonderful husband, Jorge has been happily married for more than 25 years. He is originally from Chile. Together they have raised 2 daughters and are now enjoying more time with one another. Ashley is the oldest, she has been married for more than 5 years and is a practicing dental hygienist and expecting her first child. Mckenzie is a college student pursuing a field in sonography. Kim and Jorge take extensive vacations in Chile, enjoy seeing new places, biking, and spending time with the family.
Anna Benton, Dental Assistant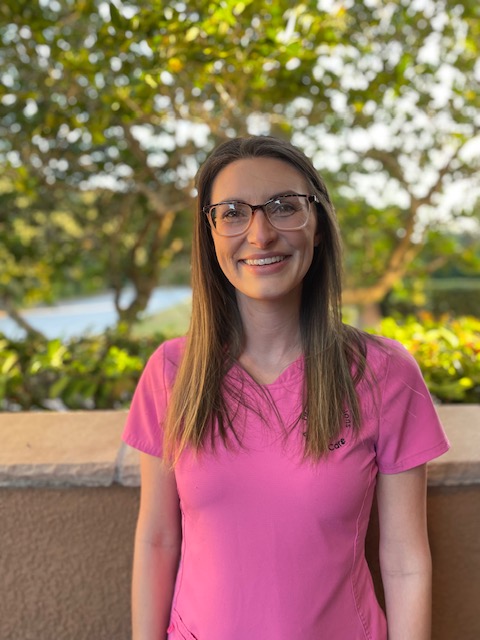 Anna Benton was born in Monticello, Indiana and moved to Florida in 2013. She has been working for First Impressions Dental Care since 2013 and is one of Dr. Purdy's favorite dental assistants. She married her wonderful husband, Payton, in January of 2018. In October 2018 they welcomed their beautiful, sweet daughter, Madelyn (Maddie). She is their entire world, and most of their time revolves around her. She is such a joy and keeps them very entertained with her hilarious personality.
When Anna is not busy running after Maddie, she enjoys going back home to Indiana to visit family and friends.
Lesley Shufelt, Dental Assistant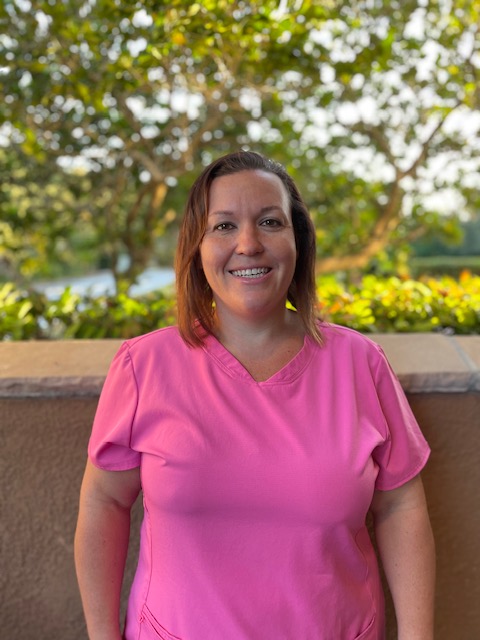 Lesley Shufelt was born and raised in Grand Island, NY. She moved to Summerfield in 2016 so her husband Josh could pursue his dream of owning his own lawn care business. She has been a dental assistant since 2006. She is one of Dr. Pisano's favorite dental assistants. She loves to see how a great smile can change a person's entire life. She married her sweet husband, Josh in September 2018, and they have one child, Jack Thomas born in September 2019, the cutest little boy ever! She loves being a mommy to JT and their English bulldog, Monty. She loves going to the beach, gardening, reading, hiking and being outdoors.